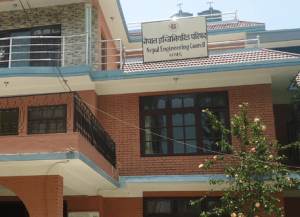 With the aim of making engineering profession more effective, Nepal Engineering Council (NEC) was established under the Nepal Engineering Council Act, 2055 . The council has been vested with the statutory authority for the planning, coordinated development and monitoring of engineering profession and education in the country.
Read: Brief introduction of Nepal Engineering Council
The Engineering Council Act defines the registration of engineers into three following categories
General Registered Engineer

Professional Engineer

Non-Nepali Registered Engineer.
Registration Process in NEC
Registration form can be submitted by all who have completed all the courses of Bachelor Degree in Engineering from any Engineering College authorized by Nepal Engineering Council. The list of NEC recognized universities and college in Nepal and abroad can be accessed from here.
Charge for registration of Bachelor in Engineering Certificate:
The amount should be deposited at Rastriya Banijya Bank in favour of NEC, current Account no.1093 and following documents should be submitted at NEC Office:
Attested copies of Academic Certificates

SLC mark sheet,

Character certificate,

Intermediate level or 10 +2 Transcript,

Character certificate,

B.E.Degree/provisional Certificate,

B.E Transcript,

Character certificate,

Attested copy of Citizenship.
Recommendation:
Copy of ID Card or Permanent Certificate(Those who have given recommendation) must be Attested for recommendation.
After Submission:
The approval of certificate is done by the board meeting of Nepal Engineering Council and the meeting is scheduled in every 6 month. So, the applicants may have to wait for months to get valid certificate.
Before Bhadra 15th – 2072, there was provision of giving temporary certificate till the original certificate is issued but the rule has been amended. After the date, NEC is issuing a paper with form registration number and stating that the issue of certificate is on the way. Also, applicants need not to pay Rs. 300 fee which was for the temporary certificate.
Exam for Engineering Certificate?
Though Nepal Medical Council which is considered equivalent as NEC for medical sector conducts exam for issuing certificate to MBBS graduates, there is no provision of any exam till now for engineering certificate.
Contact Address of Nepal Engineering Council:
Phone No.: +977-1-4420655, +977-1-4420656
Email: necgov@ntc.net.np
Location: Naxal, Kathmandu [Google Map Location]
Read: Grading & Evaluation System of IOE Exam for Bachelor in Engineering Courses