IOE MSc Entrance Exam Details
Institute of Engineering (IOE) initiated (Post Graduate) Master Programs in constituent engineering colleges from 1996. Urban Planning, Structural Engineering, Environmental Engineering and Water Resources Engineering were introduced in Central Campus, Pulchowk which later started M. Sc. courses in Renewable Energy Engineering, Geo-technical Engineering, Information and Communication and Power System Engineering effective from December, 2001. Norwegian Government, has started M.Sc. Courses in Sustainable Water Sanitation and Health Development from 2007 and Technology and Innovation Management from 2010. This campus has also started master program in Transportation Engineering and Disaster Risk Management from the academic year 2011/12. IOE has also started regular Ph D admission from academic session 2010/11 in all departments. A new Master's program in Earthquake Engineering was started at Thapathali Engineering Campus in 2071 BS.
Availability of application form for M.Sc programs
Applicants willing to appear in the entrance examination to be held by IOE for the enrollment into MSc levels of its constituent campuses are notified to fill the online application form through the entrance exam website. The date and time for entrance exam 2017/2073 is mentioned below.
IOE M.Sc Entrance Syllabus
Entrance examination of 2 hours duration consisting of two sections:
Section- A: It common to all streams, consisting of 45 questions of 50 marks.
Section-B: This section consists of stream specialized course with 50 nos. of questions of 1 mark each. Each question will be of objective type with multiple choice answers.
The syllabus for Masters Degree entrance of IOE can be accessed from IOE M.Sc. Entrance Syllabus page. There will be 10% negative marking for wrong answer.
Time and Date for Online Application
For academic year 2017(2073), interested candidate can fill form from 10 AM, 1 st Falgun 2073 (12 th February 2017) to 5 PM, 15th Falgun 2073 (26 th February 2017)
Exam Date
Following the past trends, the Entrance Examination for Masters level is held at the first week of March i.e. last week of Falgun. This year (2073/2017), the exam will be held from 20 to 21 Falgun 2073 (March 3-4, 2017)
Intake Capacities in Master Programs
There are around 400 seats for various 21 streams in 3 constituent engineering campuses in Kathmandu (Pulchowk Campus and Thapathali Campus) and Pokhara (Western Region Campus – WRC). 20 seats are allocated for each program
Read: Intake Capacities, Eligibility Requirements for Masters Programs for IOE Pulchowk Campus, Thapathali Campus and Paschimanchal Campus
IOE M.Sc Entrance Exam Result
It takes 1 or 2 days for publication of result from the day of entrance exam. The result of entrance exam 2017/2073 will be published by 25th of Falgun, 2073 (By 8th March, 2017).
Entry Requirement, Application and Admission Procedure
Admission Notice for the successful candidates shall be published by the Admission Committees of Constituent Campuses of IOE. The Academic session starts from 17th Baisakh 2074 (30th April, 2017).
Eligibility
To be eligible for master's entrance application, the candidate must have passed bachelor degree in relevant subjects with at least second division.
Application submission fee
Applicant should deposit an amount of Rs 2,000 as an application fee for entrance examination in Account No. 00915056064 of the Siddhartha Bank Limited by submitting a specially prepared voucher often by filling applicant's name and date of birth in it. The voucher No. indicated in the voucher needs to be specified in the online application form.
Documents to be submitted while submitting online application form
The candidate also needs to upload his/her color photograph of prescribed specification
and one of the following identification documents.
Citizenship certificate
Passport
Last exam admit card
Read: Intake Capacities, Eligibility Requirements for Masters Programs of IOE for Pulchowk Campus, Thapathali Campus and WRC
Download admit card
Admit card can be downloaded on 17 th of Falgun 2073 (28 th February, 2017) onwards from the website: http://entrance.ioe.edu.np. The color printed admit card along with original ID document should be with the applicant at the time of exam.
Academic Programs available in Institute of Engineering (IOE)
Planning and Architecture (PA), Civil and Agriculture Engineering (CA), Electrical Engineering (EE), Electronics and Computer Engineering (EC), Mechanical and Industrial Engineering (MI), Applied Science (AS) and Disaster and Planning (DP).
Fees arrangement for Masters program
Candidates applying for admission at Mechanical Department have to appear in separate aptitude tests conducted by the respective campus. Final selection will be made on the basis of 70% weightage of entrance score and 30% weightage of aptitude test score. Fee Structure is as follows: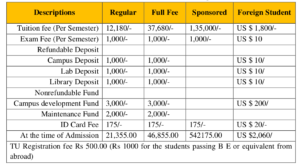 The candidates under sponsored category have to pay the fee for full course duration (two years) at the time of admission. Also payment of fees by the candidate under sponsored category shall be received only by cheque of the sponsoring agency. The cash transaction shall not be entertained.
In case, the admitted student needs to cancel his/her admission following rules are applicable in
reimbursement of fees:
25% deduction from tuition fees prior to the start of class.
50% deduction from tuition fees till 7 th day after the start of class.
No repayment of tuition fees and non refundable deposits following the 7 th day from the
commencement of the class.
Duration of the Course and Barrier
The normal duration of the course for the fulfillment of the degree is two academic years. The maximum period within which a student is allowed to complete the course is four academic years.
Only students able to secure minimum 50% of the total credit of any semester will be allowed to admit to the next semester. Unsuccessful students have to repeat the courses in which they failed and should pay course registration fee for those courses. (Rs 2000 per credit)
Internal Evaluation
Internal evaluation is carried out by two internal assessments and assignment.
Elective Registration
Students should register themselves in the elective courses offered by the programs in that semester before the beginning of the class. For the open electives students of each program should apply to their respective program coordinator and he/she will precede it to the related program/department. Elective registration should be finalized by the program coordinator within first week from the beginning of the semester. Minimum number of students for each elective course should not be less than 6.
Thesis Registration
Students should pass all the core courses before registering to the thesis but have to pass all the courses including elective courses before its defense.
Students should submit thesis proposals to the respective Program Coordinator. They can
consult available faculties for the preparation of thesis proposal. Different activities associated with
thesis (Supervisor appointment, Proposal Defense, Midterm Defense, Final Defense) will be
carried out by the Program supervisory committee.
Minimum gap between the midterm thesis defense and the final thesis defense should not be less
than 4 weeks.
Any student failing to defense within the regular 4th semester should take admission for the next
semester and should defend as per Academic Calendar of IOE. He/She may apply for the
extension for the maximum of one semester with the approval of supervisor without getting
admission.
Note: It is the responsibility of the students to manage the resources for their thesis work.