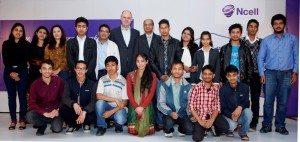 Nepal's second largest telecom operator, Ncell has handed cash prize each of Rs 100,000 to 16 highest scorers of Bachelor in Electronics, Electrical and Communication, and Computer Engineering faculties of Institute of Engineering (IoE).
The award named "Ncell Scholarships and Excellence Awards" was started to "promote educational value in the engineering faculty" as a part of its CSR (Corporate Social Responsibility).
The cash prize was awarded to to 2nd, 3rd and 4th year students of different streams based on their annual scores along with four others graduating students.
Similarly, with the aim of encouraging female education, one female topper of BE among all female students from three faculties was also awarded.
Following students received scholarships:
1st year toppers
Prabin Adhikari (Electrical)
Pranjal Dhakal (Electronics and Communication)
Brihat Ratna Bajracharya (Computer)
Alisha Bajracharya (topper among all female students of these faculties)
2nd year toppers
Ram Prasad Jnawali(Electrical)
Pratik Bhandari (Electronics and Communication)
Mahendra Singh Thapa (Computer)
ChitraParsaila (topper among all female students of these faculties)
3rd year toppers
Asim Chaulagain (Electrical)
Pradeep Bajracharya (Electronics and Communication)
Manish Kumar Sharma (Computer)
Kamala Gajurel (topper among all female students of these faculties)
Ncell Excellence Awards winners:
Bikash Poudel (Electrical)
Aayush Kumar Chaudhary (Electronics and Communication)
Swapnil Sneham (Computer)
Nerisa Chitrakar and Urja Acharya (topper among all female students of these faculties)