Hope you all are safe and managing best as you can in this hard time. First of all, best of luck for upcoming HSEB board exam which is going to kick off after few days. Its really hard to attend exam in this situation but it can't be postponed for long time which may affect the yearly calendar.

Most of you might have made decision to join which stream after completing the intermediate level exam while some may have already joined preparation classes or doing yourself for entrance exam. It really needs hard work to get ahead as level of competition is bound to be sky high but never loose hope.  
Gone are the days when it was essential to join entrance preparation institutes paying huge fees just for taking practice tests of engineering entrance exams. I personally faced this problem because of which I didn't take a single exam before attending entrance exams of KU and TU. But the time has changed. Phunka Technologies, a startup based on Nepal with one of the best educational product (a project repository), Flipkarma has released Meroanswer with over 15,000 questions of Engineering and MBBS entrance exams.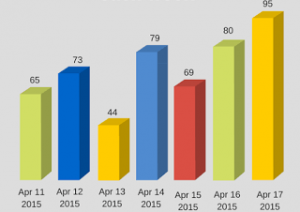 With many cool features including tracking of progress and membership plans to access unlimited question, it can be accessed via Android app with easy interface. More than 500 questions are added weekly and can be practiced according to level of difficulty with answers not only including the correct choice  but also hints & solutions of most of the objective questions which are constantly updated to stay current with educational trends and course structure.
Now, the next big thing of entrance exam is it may be harder to get good rank in competitive atmosphere if you play around with only questions and don't go through the prescribed syllabus thoroughly. I always remember Raj's words – "MCQ tests are like Driving License Test. These driving tests are not about whether you can start engine, put your foot on gas pedal and go on…they are about general understanding of vehicle itself". It needs more self studies and smart work.
Though no new things apart from the courses of +2 are included in the topics given by IOE, IOM and other boards except some few things like drawing, it needs good understanding with the topics. If you have good understanding  in class 11 and 12, then it would be lot more easier but if not the case, entrance preparation institutes could help in paving the way with some cons of over-hyping the hardness.
Also, if you have joined any preparation classes earlier which could be of MBBS or BE, then I recommend you to prepare by your own which could be beneficial and as we have already mentioned that in this case, Meroanswer will be a lot more helpful.  Also, keep practicing past questions which could help to grab the trend of questions and raise confidence too. Make time to meet and discuss with friends which makes preparation much smarter but don't engage much in social media. Self analysis and learning from mistakes is the key to good raking. Don't think time spent on learning small thing is a waste and good way is to make formulas or try short approach to remember things.
Entrance Exam Pattern
The pattern of entrance exams of both Engineering and MBBS is objective type with the subjects being covered as physics, chemistry for all and biology for medical & math plus drawing for BE. For some of the exams like B. Arch, the universities/colleges also take an aptitude test. From last year, Tribhuvan University, Institute of Engineering(IOE) has introduced computer based test on first phase and paper based on second. To attend the later exam, student must pass the CBT.  We will keep on updating as soon the pattern of exam is finalized. Keep on following us.
TAKE CARE OF HEALTH AND ALL THE BEST !!! 
Important links:
Quota and Reserved seats for Entrance at IoE affiliated Engineering Colleges
Why Should I start Using Meroanswer for my exam preparation?